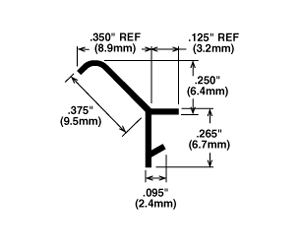 PF 164
Compression: Recommended: 25%, Minimum: 10%, Maximum 50%
Standard Pack: 500 pcs/carton
Standard Lengths: 97"(2.46m);144"(3.65m) Tolerance +/- 1"(25.4mm) Other lengths and secondary cut to lengths available dependant on order quantity.
Special Features: Polyflex seals are extruded polypropylene which protects against air infiltration and water penetration. Resistant to rot, mildew, corrosion and UV deterioration. Offers low coefficient of friction and eliminates "sing" or "whistle" caused by weatherstrip vibration. Leaf compression seal for mounting distances of .125" and .2" with a reach of .250".
Other Information: Kerf Width: 0.078" (2.0mm) Kerf Depth: 0.281" (7.1mm) Ideal for use as a secondary seal to shed water, create a pressure drop or redirect air flow. Other colors are available, dependent on quantity.
Why AmesburyTruth Weather Strip?
AmesburyTruth weather stripping and Weather Seal products set the standard for quality in the fenestration industry and are available in standard and custom configurations for residential and commercial applications.