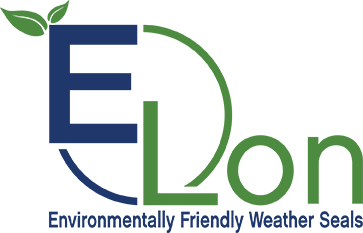 E-Lon® by Foam Tite® - The Safe Choice
E-Lon® door seals are manufactured utilizing the same technology that has made AmesburyTruth the industry leader in window seals. Since the introduction of our Foam-Tite® technology in 1986, we have shipped over 5 billion feet serving over 400 customers. Combining this technology with our patented multi-hollow design we are now able to offer you door seals with the same superior performance.
Superior Performance of E-Lon®
E-Lon® door seals achieve the same AAMA 702 Class A Extra High Performance certification as our Q-LON® door seals. Raising the bar, E-Lon® has the added features of a seamless and tear resistant skin, and the extra low water absorption properties of our closed cell technology. The patented multi-hollow design of our E-Lon® product provides low Compression Load Deflection (CLD) as well as a low compression set. AmesburyTruth™'s E-Lon® TPE has less than 1% shrinkage, is process friendly, and 100% recyclable.
Characteristics of E-Lon®
The extrusion process of E-Lon® makes the liner seamless. TPE closed cell foam cell structure allows for nearly zero water absorption compared to open cell urethane products, and maintains excellent UV and weather resistance. E-Lon®'s TPE seamless skin and closed cell foam allows the product to be corner welded.
Foam-Tite® E-Lon® Advantages
10 Reasons to want E-Lon® in your door
AAMA 702 Class A – Extra High Performance (XHP)
Low CLD
Low water absorption
Low shrinkage
Low compression set
Recyclable and sustainable
Seamless skin
Tear resistant skin
Process friendly - TPE
Rigid kerf material allows for easy insertion
E-Lon® TPE /Characteristics
TPE = Thermoplastic Elastomer
A seamless extruded TPE skin coating as compared to the polyethylene liner of urethane foam products.
TPE skin and foam allows product to be corner welded
TPE materials are 100% recyclable
Excellent UV and weather resistance
Low water absorption compared with urethane products
Comparable CLD to industry standard
Foam-Tite®/The Safe Choice
Foam-Tite® #1 Window seal in North America since 1986
Over 5 Billion feet sold
Over 400 customers
Next Generation of a Door Seal
Patented product and process
AAMA 702 Class A – Extra High Performance (XHP)